Hand Painted Light Switch Cover #10
Medium: Acrylic Paint And Plastic 
The glossy finish enhances the beautiful art designs. A perfect addition to any office or home. 
Regular price
$ 25.00 USD
Sale price
$ 25.00 USD
Regular price

Guarantee safe & secure checkout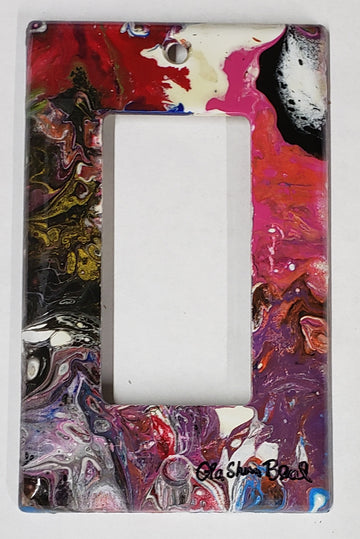 Hand Painted Light Switch Cover #10
Regular price
$ 25.00 USD
Sale price
$ 25.00 USD
Regular price
LaShun Beal
Art Terminlogy
Shipping & Return
LaShun Beal
LaShun Beal, contemporary, figurative artist, born January 28, 1962, has dedicated his career to perfecting his art. He is a native of Detroit who now resides in the Houston area. He challenges and expresses himself through many mediums. The ground surfaces and canvases that he uses have their own distinctive character and matchless capacity which gives voice to his work and complements his unique style. After mastering the technical subtleties of different mediums and subject matters, Beal is content with the spirit that drives him to create a particular work of art; and, the evolution of his progress which is exemplified in his creations. He has done extensive traveling throughout Europe, South America and the Far East which has afforded him the opportunity to witness other cultures which is reflected in his art. Beal states, "As an artist, I must be free to choose what I do. I enjoy the process of creating with no limits. That is my vision . . . to let the viewer experience the depth of my range as an artist from their own perspective". He translates his creativity into imagery while simultaneously masterfully using the mediums of acrylic paint, clay, oil pastels and graphite in his work.
Artist Proof prints...A/P

Common practice is that 10 to 15 percent of an edition is reserved for the artist. These proofs are identical to impressions in the edition in most instances. Print Marking example; A/P "1/35" is the first print of an edition of 35 Artist Proof impressions.

Acid Free

The print contains no harmful acid or alkaline that may affect the life of the paper or quality of the image printed.

Certificate of Authenticity

A document issued with limited edition prints, with the print published date, size of the image, original art media, number of the prints in the edition, a statement about the work from the artist and the fact that the plates have been or will be destroyed to close the edition.

Etching

An image created by the artist on a metal plate by means of engraving tools and acid. This produces the sunken line which will receive the ink. As the plate is inked, the ink settles in the sunken areas. The plate is then wiped clean. The plate, in contact with damp paper is passed through a roller press, and the paper is forced into the sunken area to receive the ink.

Giclee or Digital Print

A fine art print that has become more precise with the advent of the revolutionary printing process Giclee (zhee-clay) a French term meaning "spray of ink." In the Giclee process, a fine stream of ink (more than four millions droplets per second) is sprayed onto archival art paper or canvas. Each piece of paper or canvas is carefully hand mounted onto a drum which rotates during printing. Exact calculation of hue, value and density direct the ink from four nozzles. This produces a combination of 512 chromatic changes (with over three million colors possible) of highly saturated, non-toxic water-based ink. Since no screens are used in Giclee printing, the prints have a higher resolution than lithographs and the dynamic color range is greater than serigraphs.

Hors de Commerce...H/C

Hors de Commerce (Not for trade) traditionally were the graphics pulled with the regular edition but marked by the artist for business use only. These graphics were used for entering shows, exhibits, samples, etc. Today, however, since people began to acquire and collect them, these graphics now generally find their way to the market place through regular channels and are sold. Example H/C 1/10

Limited Edition Prints...L/E

A fixed number of identical prints of an image, signed by the artist, sequentially numbered, and showing both the print's number and the total edition size. Each print is referred to as a "limited edition print."

Lithograph

A print produced by a printing process in which the image to be printed is rendered on a flat sheet or metal plate or stone, and treated to retain ink while the non-image areas are treated to repel ink.

Medium

Medium is the material or technical means of artistic expression. Examples include oils, watercolors, acrylics, ink, pencil and charcoal. Technical examples include lithography, serigraphy and giclee. Mixed media is the use of two or more materials and/or technical means.

Offset print

A mechanical process used to photographically reproduce an image. The newest printing method in the industry is computerized or electronic printing. This process uses a computer, typesetting and page-design software and optical scanners to aid in reproduction. The majority of reproductions are created using this process.

Open Edition

The quantity of prints reproduced is not limited. As long as the image is in demand, it will be reprinted.

Original

The first of a work, typically the painting from which prints are made. It may also be used to describe the landmark work of an artist.

Printers Proof...P/P

Common practice by many printers is that a small number of impressions are made for their review. These proofs are marketed and are identical impressions to the edition in most instances. Print Marking example; P/P "1/20" is the first print of an edition of 20 Printers Proof impressions.

Rag Paper

One hundred percent rag paper are constructed of cotton fibers. Traditionally considered museum quality. Watercolor paper and most printmaking papers are examples of archival rag paper.

Remarque...rem

A current practice by some artist is the addition of a small personalized drawing near his penciled signature in the margin of the graphic. The simple sketch or drawing is usually rendered in pencil, but can be rendered in color. A print containing one of these hand embellishments or drawings is called a Remarque. Print marking example; RE "1/25" is the first print of an edition of 25 Remarques. By art market standards Remarques usually rank higher in value to S/N's (re-mark)

Serigraph

A print made by the silk-screen process involving the use of stencils. Paint is applied to a fabric screen, penetrating areas not blocked by a stencil. Several stencils are used to produce a multicolored print. As a commercial medium, silk-screen printing has been used by such modern artists as William Tolliver.

Signed and Numbered

Prints that are authenticated with the artists signature, the total number of impressions in the edition, and the order in which impression is signed. Numbering example; L/E "5/350, indicates the fifth print of a limited edition of 350 impressions.

Sold Out

When a limited edition is no longer available it is termed Sold Out. When an image sells out it usually will begin to appreciate in value depending upon resale or trade in the secondary market. In the art market a red dot on a piece symbolizes that it has been sold.

Watercolor

Watercolor or watercolour - Any paint that uses water as a medium. Paintings done with this medium are known as watercolors. An exception to this rule is water miscible oil paints, which employ water as their medium, but are actually oil paints.

When made opaque with white, watercolor is generally called gouache or body color. Tempera is another exception.

Colors are usually applied and spread with brushes, but other tools can also used. The most common techniques for applying watercolor are called wet-on-dry and wet-on-wet, along with the dry brush techniques dry-on-dry and dry-on-wet. Colors can be removed while still wet, to various degrees by blotting.

Most watercolor painting is done on paper, but other absorbent grounds can also be employed. The papers most favored by those who paint with watercolor is white, very thick, with high rag content, and has some tooth.

Woodcut or Wood Engraving

A relief technique in which a design is cut with knives, gouges, or chisels into planks of wood parallel to the wood grain. Wood Engraving is a relief technique in which a design is cut with burins, gouges, or chisels into the end grain of a hard wood block.
Payment Methods:
Apple Pay
Google Pay
Paypal
Shop Pay
Shop Pay (4 Installments/Layaway) Pan
Payment, Shipping & Returns Policies:
International
All packages, unless otherwise stipulated, once processed, go out United States Postal Service Priority International or USPS Standard International. Tracking numbers are given, but the postal service does not typically allow tracking of this number until the package has been delivered. Please note that minor adjustments to the shipping rate may be required depending upon the country of shipment and the CURRENT USPS shipping rates.

Canadian Customers
Canada Customs requires Canadian recipients to pay applicable duties and taxes on each shipment entering Canada. These charges may include PST, GST, HST, duties and other taxes of goods (e.g., excise tax). A brokerage fee is also charged to process shipments and present the requisite customs paperwork to Canada Customs on the importer's behalf.

International Customs
The purchaser is responsible to pay any applicable taxes or duties that may apply. We do not calculate or collect taxes or duties from you. It is the purchaser's responsibility to check country and local regulations and policies of the receiving country and abide by those. It is the responsibility of the purchaser to be sure the Customs Department permits the shipment of our products to your country and what the duties or tariffs may be upon delivery. We will not provide a refund on the shipping of the package if it is refused by customs or by yourself, due to regulations and taxes or duties. If the package is seized by customs for any reason and the package is not returned to us, we can not issue a refund.

Incorrect Shipping Information
If a package is returned to LaShun Beal Fine Arts due to an incorrect or incomplete shipping address provided by a customer, or if the customer was not home for delivery the customer will be responsible for the return shipping cost as well as the redelivery cost.
LaShun Beal Fine Arts is not responsible for packages delivered incorrectly or lost due to incorrect or incomplete shipping information provided by a customer, no refunds will be provided if any parts of the address are incorrect.

Lost or Stolen Packages
LaShun Beal Fine Arts is not responsible for lost or stolen packages that have a confirmed delivery to the address entered for an order. Upon inquiry,
LaShun Beal Fine Arts will confirm delivery to the provided address, date of delivery, tracking information and shipping carrier information for the customer to investigate.

Damaged Product & Incorrect orders
LaShun Beal Fine Arts is not responsible If you receive damaged product or an order that you feel was processed or filled incorrectly, you must contact us by email within 30 days of placing your order.

No refunds, replacements or credits will be issued for orders confirmed to have been delivered to the address provided in an order.

Items not in Stock (Back-orders)
We strive to have all of our products available for immediate shipment. Due to popularity and high demand for our products, some products may go on back order. We will take all necessary steps to advise you in a prompt manner if this situation occurs. If it is possible to ship a portion of an order, we will send out all available items and place the remainder as a back-order, to be shipped as soon as possible with no extra shipping charges to you. Back-orders are only available for US Residents. International customers will receive a refund for items not shipped.

Refund and Money Back Guarantee
LaShun Beal Fine Arts stands behind the products we sell. If there is any discrepancy with your order please contact us via email the next business day. Once an order has been shipped it cannot be changed or cancelled. Please contact us with any questions or concerns at LaShunBeal@LaShunBeal.com To obtain a refund, simply return all unopened products (unused) with your original packaging slip inside order marked (Return) and not the reason for return. within 30 days
Shipping Methods Calculated at checkout.
USPS Priority Mail
UPS Ground 
UPS Standard International


Note: "Priority Mail" is not express shipping, Priority mail does not speed up our daily processing time or shipment of an order. Priority mail is basically a shipping method offered by the United State Postal Service. 
99% of all orders shipped from our company are shipped using priority mail.
You can always contact us via: LIVE CHAT or Email to find out order status.
How to return a product

Please email contact us with your order number and the item you want to return to start the return process.
Ship your unused product, in its original packaging, to the address identified in our email.
Please Note:
Credit for returned items will be applied to the credit method that was used to make the purchase. Returns will be applied to the purchasing credit card within 5 to 10 days of the date that the return is accepted by our warehouse.
If a restocking applies to returned items, the amount of the fee is 25% of the original total order amount.
Original shipping fees are non-refunded only if returns are for defective products, products that were not described accurately, or incorrect orders.
You are responsible for shipping the products back to us. We recommend using a trackable shipping method.
Individual products may be excluded from this guarantee. Check the product description before you place your order.
Please Read: Safety Information (Stay Safe):